Lil Wayne Releases I Am Not a Human Being II Track List
Nicki Minaj and 2 Chainz are on it.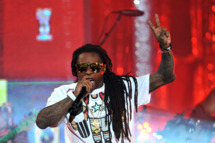 A Lil Wayne track list can't tell you much (Tha Carter III's couldn't have foretold how great the album would be any more than Tha Carter IV's could've warned what a wreck it would be), but Weezy's DONDA-approved I Am Not a Human Being Part II track list is here anyway. Nicki Minaj appears, 2 Chainz shows up twice, Soulja Boy, Gunplay, and Juicy J are there, and the sequencing is really something — "Trigger Finger" > "Beat the Shit" > "Rich as Fuck." "Bitches Love Me" segues to "Romance." That kinda thing.