Matthew Vaughn Adapting The Secret Service Next
Based on a comic from <em>Kick-Ass</em>'s Mark Millar and <em>Watchmen</em> artist Dave Gibbons.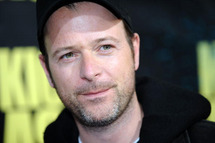 Matthew Vaughn (Layer Cake, X-Men: First Class) has lined up his next feature. 20th Century Fox has scooped up The Secret Service after it fell apart at Universal Pictures, setting a November 14, 2014 release date. It'll be Vaughn's second time adapting a comic by Kick-Ass creator Mark Millar. (Also, bonus: the comic was illustrated by Watchmen's Dave Gibbons.) "It feels unlike anything else, which is quite nice," Millar has said of the spy story. "In the same way that Kick-Ass felt very unlike Spider-Man, this has a similar relationship to James Bond."