Mindy Kaling Tells Us Why The Mindy Project's Mindy and Danny Can't Do the Nick-and-Jess Thing
"If there was a physical thing, it wouldn't come from 'I love you so much.'"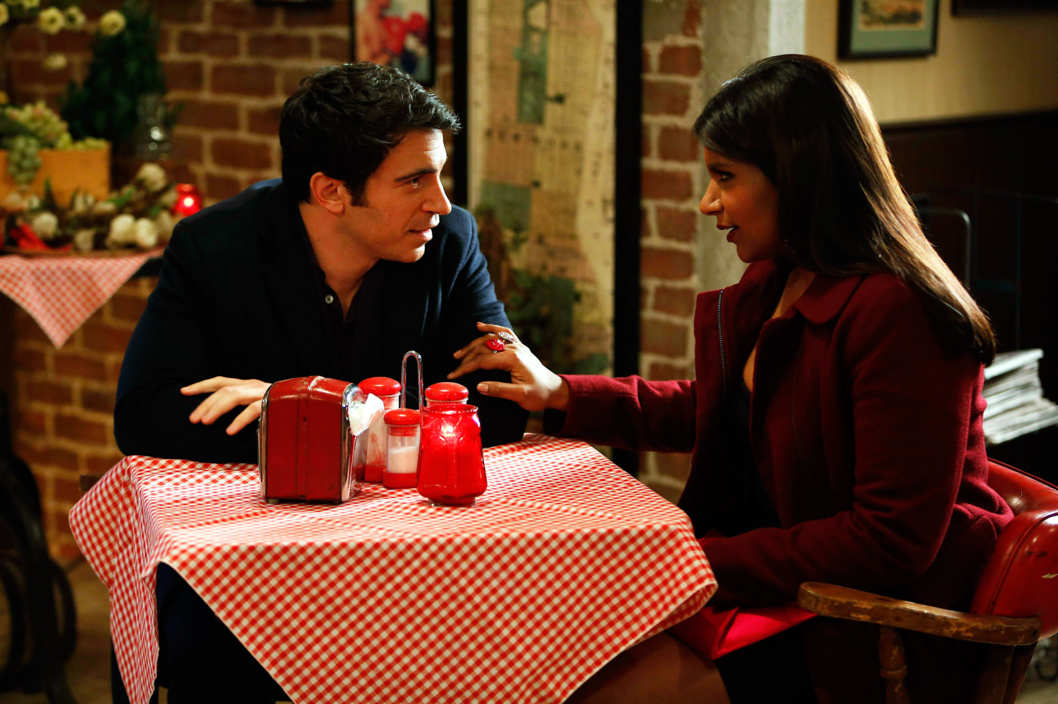 On last night's New Girl, Nick and Jess raced back and forth between "will they" and "won't they" in record time: It was like the sitcom-romance version of running wind sprints. But could this Moonlighting-esque irritation-turns-to-love virus bleed into New Girl's lead-out, The Mindy Project, between Mindy and Danny? Even though last night was all about Danny hitting on Mindy's friend, there have been hints that there could be something between the two partners, like the rom-com-esque moment a few weeks ago where Danny attempted to cheer Mindy up with an offer of vending-machine snacks — and knew exactly what she liked. And how about their impromptu pizza date? And the fact that he now calls her "Min"? And her taking his relationship and wardrobe advice? And so I put it to Kaling: Are they following Nick and Jess down the same romantic-tension road?
"I don't know that this is a series where in a couple of years there's a kiss!" Kaling said. "Our characters sleep with people. They make big mistakes. For me, I don't know that it's as tender and innocent as Nick and Jess, or as beautiful and innocent as Jim and Pam. Mindy and Danny are much more flawed, so part of me thinks they're either not going to do anything or they'll do something big and dramatic and inappropriate.
"Even though we are in our thirties and the characters on New Girl are also in their thirties, our lives are so different." Kaling continued. "Our characters are very adult. We have our own apartments." B.J. Novak, who played one of Mindy's possible love interests and serves as a consulting producer on the show, pointed out that the characters, while both sometimes cranky and judgmental, are at different places in terms of past romantic experiences. Getting them together in a believable way would be more of a challenge. "Neither is innocent, but Mindy does have this romantic puppy love, this rom-com side, and Danny is a guy who has been divorced and is very cynical."
And even if Mindy and Danny did find a way, don't expect them to get all
shmoopy
about it. "I feel with the two of them, if there was a physical thing, it wouldn't come from 'I love you so much,'" Kaling said. "It would come from 'I just had to see what that felt like!'"