Prince William Is Getting a Reality Show, Sort Of
It's called <em>Helicopter Rescue</em>.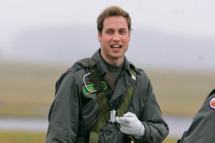 Technically, it's more of a documentary, and William is not exactly the star, in a Kardashian sort of way. But he will get "extensive coverage" in Helicopter Rescue, a BBC show that will follow RAF rescue pilots (which Prince William was, until yesterday). If you are already calling this show Royal Top Gun and imagining extended scenes in which the future king of England plays beach volleyball, well, you're not alone.