Comedy Undercard: Just Shoot Me! vs. Spin City
It's NYC fashion versus NYC government.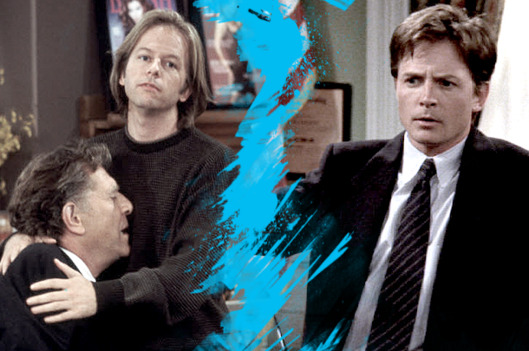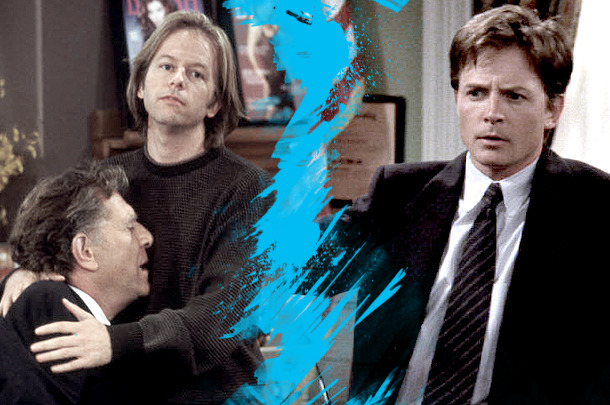 Vulture is in the midst of its Sitcom Smackdown, a three-week contest that pits the best sitcoms of the last 30 years against each other to crown the ultimate winner. But while that bracket focuses on the greatest, most innovative modern comedies, it couldn't cover all of the series that live on in our hearts, the ones that may not fit those highfalutin parameters but which we could talk about for days. To give these other series their moments to shine, every day we'll be pitting two like-minded comedies against each other: We'll pick our winner, and readers will then vote for their own. Today: It's a rivalry between New York City–set workplace comedies as we pit Just Shoot Me! against Spin City.
Today's contenders: Spin City (1996–2002) vs. Just Shoot Me! (1997–2003)
Workplace comedies are pretty rare on TV these days, and will be rarer still when The Office signs off in May. But back in the nineties, the small screen was flooded with men (and women) at work: The Drew Carey Show, Murphy Brown, The Naked Truth, NewsRadio, Suddenly Susan, Veronica's Closet, Sports Night. Our two warriors today still resonate a decade after signing off. Spin featured Michael J. Fox (in his first TV role since Family Ties) as the deputy mayor of New York and the head of an office full of craziness. And Just Shoot Me! (we're only using the exclamation mark once, dammit) was built as a half-hour about the relationship between a writer (Laura San Giacamo) and her crazy millionaire publisher dad (George Segal). In the end, both endure not because of their relatively well-known leads, but because of their expansive ensembles of memorable supporting players.
Auspicious Debuts: Just Shoot Me was the first show created by future Modern Family co-creator Steve Levitan. And before he launched Scrubs and Cougar Town, Bill Lawrence teamed with the legendary Gary David Goldberg to create Spin.
Zany Elder Statesman: Spin had Barry Bostwick as Mayor Winston, the semi-clueless executive whose obliviousness now seems to foreshadow the presidency of George W. Bush. Segal was JSM's Rupert Murdoch (or Donald Trump), but not nearly as mean or powerful.
Crazy in Love: Both shows got maximum comedic mileage out of their characters' sorry romantic entanglements. On the male side, Alan Ruck's sexist Stuart on Spin would have fit right in at Sterling Cooper; David Spade kept his lecherous smart-ass persona from SNL as JSM's Finch. On the other side of the gender equation, Connie Britton's Nikki provided Spin's best sexcapades, while Wendie Malick hit her sitcom peak on JSM (Dream On was amazing, but Nina was a much meatier role).
Trump Card: Donald Trump was an occasional foil for Segal's Jack, but never appeared on the show. The Donald did play himself on a season-two episode of Spin. Advantage: JSM.
Late Addition Who Didn't Really Belong and Ended Up on Once Upon a Time: Rena Sofer was briefly added to the cast of JSM during the show's final season, and left almost as quickly. (She just played Queen Eva on Once). And Lana Parilla, the Evil Queen on Once, spent season five as a secretary on Spin.
Are the shows any good? Without question. Spin benefited not just from the charm of Fox but also was blessed with one of the better sitcom ensembles of the nineties (and that's saying a lot given the decade boasted Frasier, Friends, and Seinfeld). Plots are broad and the comedy is physical, but the show was well written and amazingly acted. At the time, it suffered a bit because expectations for the Next Michael J. Fox show were incredibly high. In retrospect, Spin was a really good show. JSM also had a spectacular ensemble; additionally, it benefited from Levitan having just spent time working the salt mines on Frasier and The Larry Sanders Show. It was often edgy, which no doubt explains why Jeff Zucker started screwing around with the show's time slots as soon as he got to NBC. If NBC has just stuck JSM behind Friends and left it there, rather than churning out the likes of The Single Guy, we might even consider the show a classic today.
The Moment of Truth: Ugh. If grading on fond memories and how much I loved the show at the time, Spin City would get the win. First of all, Canadians are awesome, and Michael J. Fox is the most awesome Canadian ever (though Martin Short is obviously more of a genius, and all The Kids in the Hall are gods). And like Cougar Town today, the crazies on Spin were folks you wouldn't mind hanging out with. JSM's crew just wasn't as lovable. But they were very, very funny. JSM definitely had more laughs per minute. And while Spin pushed things a bit (Stuart's friendship with gay, black roomie Carter was two years ahead of Will & Grace), JSM pushed harder. It had David Cross as Slow Donnie. In fact, Slow Donnie actually ends up being the tie-breaker for me.

Winner: Just Shoot Me, by a chicken pot, chicken pot, chicken potpie ...