Taylor Kitsch Joins Ryan Murphy's The Normal Heart
He'll play a successful investment banker.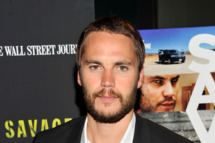 Deadline reports that Taylor Kitsch is joining the star-studded cast for Ryan Murphy's HBO adaptation of Larry Kramer's Tony-winning play The Normal Heart. The cast includes Julia Roberts, Mark Ruffalo, Matt Bomer, Jim Parsons, and now Kitsch. The story focuses on the onset of the AIDS crisis in eighties New York City. Kitch will play a closeted investment banker who eventually becomes an AIDS activist. Just like his character in Battleship.