Taylor Swift Is Going to Be on New Girl
Ten bucks says it involves "Speak Now."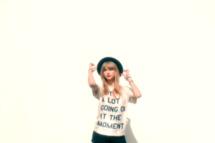 Specifically, she will be on the season finale, as an "important guest" at Cece's wedding to Shrivrang. Dear God and/or New Girl writers (if you are not the same): Please, please let this appearance involve Schmidt interrupting the ceremony and singing "Speak Now" with Taylor on backup. Do not miss this opportunity.