Report: Les Miz Director Tom Hooper Eyeing Sacha Baron Cohen's Freddie Mercury Biopic
The one starring Sacha Baron Cohen.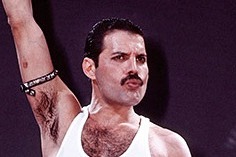 It's been a long while since Sacha Baron Cohen signed on for the role he was quite possibly born to play, legendary Queen front man Freddie Mercury. Now Baron Cohen's Oscar-winning Les Misérables director Tom Hooper is looking to helm the project. "From what I'm hearing, there is no formal offer at the moment and there are several offers for Hooper," Deadline writes. "But keep an eye on this one."