Variety Unveils Digital Face-lift
And takes down its paywall.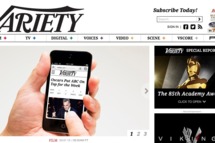 Ever since Penske Media (owner of Deadline) bought Hollywood trade paper Variety five months ago, people have wondered how the company plans to revive its struggling acquisition. Five days ago, we learned that Penske is shutting down Variety's print edition to focus on a new, snazzier website, which went live on Sunday. The publication's traditional green palate was lost in the redesign, though the old, swoopy logo was left in place. But, most importantly, the site has ditched its hated paywall, which had cost it readers and profits. Other features include: mobile and tablet compatibility; Wall Street Journal-esque pointillist portraits for each columnist; and (coming soon) a new vertical called VScore for Tinseltown's data junkies.