42 Hits Box Office Home Run
And last weekend's top earner, <em>Evil Dead</em>, fell to fifth place.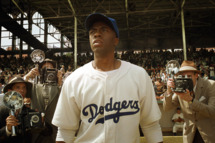 Jackie Robinson biopic 42 opened at the top of the box office with $27.3 million — far ahead of the weekend's other opener, Scary Movie 5, which only earned $15.2 million, because people cannot be made to care about the idea of Lindsay Lohan and Charlie Sheen in bed together. The Croods, now in its fourth week, came in at third place with $12.9 million, bringing its domestic total to $142.5 million. Meanwhile, GI Joe: Retaliation, which tied the animated caveman tale for second place at the box office last week, slipped to fourth place with $10.5 million for the weekend and $102 domestic million total. Finally, Evil Dead earned $9.3 million — 65 percent less than when it opened at number one a week ago — putting its domestic total at $41.4 million.