Andrew Lloyd Webber Adapting School of Rock for Broadway
He'll probably add some new songs.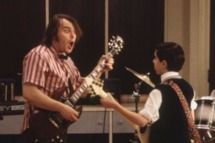 "Another thing that I've just got the rights to that I am very excited about but will obviously not be — there may be songs for me in it, but it's obviously got songs in it as it stands — is that movie School of Rock," says Andrew Lloyd Webber (Evita, Cats, The Phantom of the Opera). "So, I will go from Stephen Ward, which is really going to be sort of a chamber musical, to a musical about kids playing the guitar." But is or isn't he interested in Jack Black reprising the lead?