Avril Lavigne Rejects Human Aging Process
In "Here's to Never Growing Up," which contains a Radiohead mention.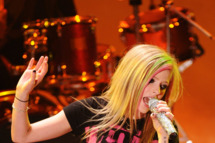 Enough about Chavril — it's time for plain old Chad Kroeger-less Avril Lavigne to do her thing again. Except her thing, on new single "Here's to Never Growing Up," feels oddly redolent of Ke$ha (the auto-tune, the insistent THIS IS AN ANTHEM!! feel), Miley Cyrus (the Radiohead mention subbing in for  the Jay-Z nod in "Party in the U.S.A."), and Rita Ora's "How We Do (Party)" (everything about the song). And it'll still get stuck in your head no matter how you break it down. Proceed with caution.