Bob Odenkirk on the Breaking Bad Spinoff and Filming the Final Episode
"A TV show is ultimately judged by its spinoff ... " he jokes.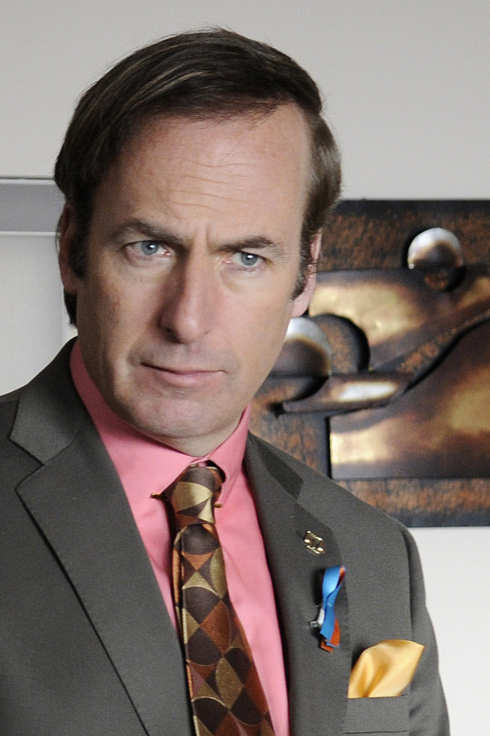 It's probably safe to reveal that Saul Goodman will make it out alive at the end of Breaking Bad, considering that a spinoff starring Walter White's hilariously shady lawyer is said to officially be in the works. Bob Odenkirk told Vulture that he and series boss Vince Gilligan have even discussed how it might work. "Oh yeah, we've talked about it," he said cryptically a few days ago, just after finishing filming his final scene. "Vince is still really busy with the show so we haven't talked very in-depth about it, but he clearly thinks it's a possibility. And I've certainly told him that if there was some way to see more of Saul then I would be happy to do it. It would be fun."
Better Call Saul (could the spinoff be called anything else?) is still in the very early stages. Gilligan started joking about the idea last summer, and Odenkirk humbly admits that at last month's wrap party in New Mexico (held before shooting actually ended, to make sure the actors whose last scenes were shot early were able to attend), he got "the biggest laugh of the night" when he began his own farewell speech by saying, "A TV show is ultimately judged by its spinoff ... " Looks like Gilligan took him seriously.
Odenkirk was a late addition to the show and considers himself lucky to have lasted as long as he has. "No one thought the part was meant to last," he said. "For it to continue was always every time a surprise to me." When it finally came time to say good-bye, the last day was unexpectedly emotional. "I was floundering around a little bit professionally when I got the role, so on its own it was a great part, but personally it meant a lot to me to be included in this great endeavor."
Odenkirk promises Saul's final moments on the show, which ends its five-season run this summer, will be as memorable as all that have come before. "The last scene I'm in is just a really rich one. It reminded me of the first scene I was in [when he burst into an interrogation room to rescue Badger from the "sneaky Pete" cops] and how much there was to work with there. There's a lot going on in it," he said. "I'm just glad they didn't end with Saul drives by and waves."
To avoid spoilers, he didn't read any scenes but his own (his choice, not the producers'). Still, he's not afraid to hype. "I've been told that the ending is really surprising and really satisfying and you can't believe the number of loose ends that get wrapped up," he said, laughing. "That's all hearsay, though, because I didn't read it. I dumped it in the trash, and then I dumped out the trash." He didn't take any mementos either, but is already starting to regret that decision. "I could have taken his World's Greatest Lawyer mug, but you can buy those. Or a pair of bright-lime-green socks. That would have been good."