David O. Russell's Next Movie Has a Title
It's close to the original name, <em>American Bullshit</em>.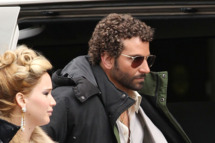 After spending a long stretch being called American Bullshit, then Untitled Abscam Project, David O. Russell's new film has a title: American Hustle. The name clearly references the crazy work Jennifer Lawrence and Bradley Cooper and Christian Bale have been putting in in the hairdo department — every day they're hustling. Set for a Dec. 13 release, American Hustle will also feature Amy Adams, Robert De Niro, Jeremy Renner, Louis C.K., and Michael Peña.