Fast & Furious Gets Its Own Equally Fast and Furious Clothing Line (Just Kidding, It's Neither)
Let's just all go topless like Vin Diesel would and call it a day.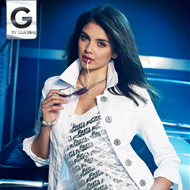 A car to crash is NOT included, but you can soon buy Fast & Furious–inspired clothing from GUESS. Some of the trends inspired by Vin Diesel and his varying team of adrenaline junkies? The deepest of V-necks, slouchy mesh tops, cropped leather jackets, and a T-shirt with the movie's repeated logo in reflective text. Maybe they could include some actual protective gear in the fall line?