FX Using 100-Episode Charlie Sheen Model With George Lopez's New Show
Ten episodes first, maybe 90 episodes later.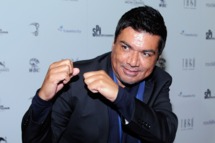 George Lopez's new sitcom Saint George is heading to FX, where it will see a ten-episode order potentially followed by a deal for 90 more episodes. It's the same model the network used with Charlie Sheen's Anger Management in 2012, with that show eventually receiving the full 100-episode order. Saint George, run by Roseanne creator Matt Williams, will star Lopez as a divorced dad who teaches history classes one night a week.