Jon Hamm Will Host the ESPYs
Great, now we have to watch the ESPYs.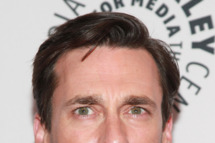 Jon Hamm will host the ESPYs this summer, ESPN announced today. Even among meaningless awards, ESPYs are ultra-meaningless — sports has its own system of awards known as winning — but the ceremony is occasionally tolerable, if only for all of the athletes attempting to look mildly surprised despite not being surprised at all. Hmmm, let's see: Jon Hamm is funny, he seems like a good sport, he's not totally unfortunate-looking, ladies like him, fellas like him ... maybe it's time to just declare Jon Hamm the host of everything.