Justin Timberlake Is Still Selling a Lot of Albums
He's No. 1 again.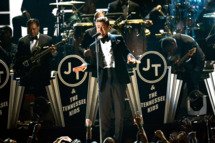 Not a million albums (okay, 968,000) like last week, but still: Justin Timberlake sold another 318,000 copies of The 20/20 Experience, which keeps him at No. 1 for a second week. Multiply by two, add some curls, and it's almost 2000 again.