Kristin Chenoweth Cast in CBS Sitcom
As Matthew Broderick's sister.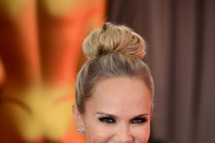 Kristin Chenoweth has been cast opposite Matthew Broderick in an upcoming CBS multi-camera sitcom about a widower (Broderick) raising a tween son and trying to get back into dating. According to THR, Chenoweth will play Marnie, Broderick's sister. In the script, she is described as a "cute, judgmental" waitress and aspiring therapist. While there are no song-and-dance numbers in the pilot as of now, that should be pretty high on the show's to-do list.