Mia Farrow and Lena Dunham Might Get Tattoos Together
We're working on it.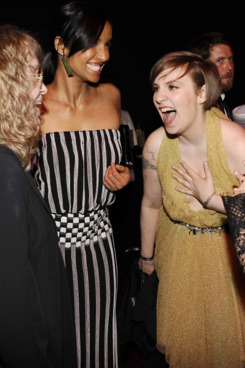 Last night, Mia Farrow met her Twitter buddy Lena Dunham for the first time, and Vulture was there to witness it: Lena kissed Mia's cheek, Mia admired Lena's tattoos, Lena told her "I have a really good [tattoo] guy." "We've been talking for a long time on Twitter," Farrow told us. But they'd never met in person. Perhaps their first date as real-life friends should be at Dunham's tattoo place, we suggest. Would Farrow be up for getting one? "I'm definitely going to," Farrow said. "I'm going to do that. She's going to guide me." When we brought this up to Dunham, she seemed totally game. "I will take her! I will take her, and I will dictate that she gets something that is both meaningful and sassy," she said. "She's so incredible. I mean, I've been a fan of hers as an actor, as an activist, as an everything — and then in person, she has those amazing John Lennon sunglasses, and she smells so good, and she's so overwhelmingly lovely."

Farrow was indeed lovely when we brought up Carey Mulligan playing Daisy Buchanan in the upcoming Great Gatsby movie (Farrow played the character in a 1974 adaptation). Is she a fan of Mulligan's? "Of course!" she said. "And I'm a big Baz Luhrmann fan. I can't wait to see what he does with it! I wasn't really sure you could make a film out of that book. The prose is perfect. It's a small book, but it's perfect. And I think the film I was in tried to replicate the book. I think Baz Luhrmann will have a different paintbrush, and I think it will be fabulous. Or I hope, anyway." It's okay; we have mixed emotions, too.