Saturday Night Live's 38-Year Archive Is Heading to Yahoo [UPDATE]
Ferrell era, meet Belushi era.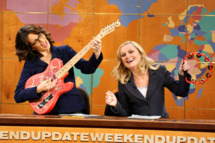 Lorne Michaels's Broadway Video and Yahoo! have inked an agreement that "gives Yahoo! users exclusive access to the entire 38-year archive of SNL content as well as clips from the current season." Not sure if that means the entire show will be streaming, but it seems like a big deal as well as a perfect opportunity for people to easily deduce if they've been overly nostalgic for the old days or if the Belushi era truly was that good.
*Clarification: A PR rep has written in with the following note, "The deal between Yahoo! and Broadway Video will give Yahoo! users access to clips (not full episodes) of the archive and that the full episodes (not the clips) will remain available on Netflix and Hulu Plus."