Steven Tyler Commits to Naked Video Chat for Fans
"Be there or be square, I don't want to hear you don't have anything to wear."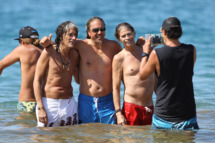 Due to what he described as "lack of time travel, and the shuttle being mothballed," Steven Tyler won't be able to make his scheduled appearance at the ASCAP "I Create Music" Expo," but he has offered a consolation prize to his disappointed fans. The leathery rocker has committed to what he claims is "the first naked chat room on Google+ Hangout." For anyone still reading: The chat will take place on April 8 at 9:30 p.m., and Tyler will be interviewed by entertainment writer Roger Friedman, who either will or will not be wearing clothes. He'll also be taking questions submitted on Twitter via @ASCAPEXPO or #AskSteven. No word on whether the mic will go scarf-less for this one, too.