Vince Vega's Stolen Chevy Malibu Has Finally Been Found
And it only took nineteen years.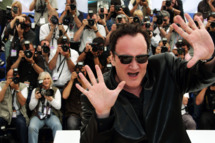 A cherry red 1964 Chevrolet Chevelle Malibu belonging to Quentin Tarantino in real life — and John Travolta's Vince Vega in Pulp Fiction — was recovered in the San Francisco Bay area just nineteen years after it was stolen during the production of the movie, the San Bernardino County Sun reports. Sergeant Albert Anolin of the Victorville sheriff's station credits officer Carlos Arrieta with finding the car when he noticed two men "stripping an older Chevrolet Malibu" outside an elementary school earlier this month. Though one of the men insisted that he'd owned the car since the seventies, an investigation into its vehicle identification number — which turned out to be an illegal copy of one belonging to another 1964 Malibu — eventually revealed that it was Tarantino's. An unidentified man arrested in connection with the find will not be charged with auto theft because the statue of limitations has run out, but the Chevy will be returned to the director as soon as the cops can get a hold of him — according to TMZ, he hasn't yet returned any of their calls.