Will Ferrell and Jack Black Will Play Tag
About ten adults who observe a month-long, nationwide game of tag every year.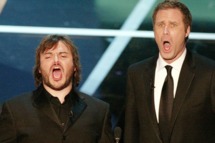 Looks like Will Ferrell and Jack Black have made up after that whole "kicking Baxter off a bridge in Anchorman" thing. The two are now attached to Tag, a comedy pitch being adapted from a Wall Street Journal article about ten 40-somethings who play tag for one month every year. "That means players get tagged at work and in bed," reads the article. "They form alliances and fly around the country. Wives are enlisted as spies and assistants are ordered to bar players from the office." The jokes practically write themselves.