Win, Lose or Draw Is Coming Back
For kids. But maybe a grown-up version could come back, too.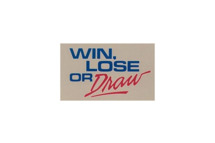 The Disney Channel is reviving Win, Lose or Draw, with Disney Channel stars, kid contestants, and fancy schmancy drawing contraptions. According to TV Guide, this new version will "employ modern technology," with the contestants drawing on "interactive multi-touch screen displays" instead of plain old easels like they used back in the dark ages. Cupcake Wars' Justin Willman* will host, and as always, no one will be allowed to say "Pictionary."
* This post initially misspelled the host's name.