Your Official 2013 Lollapalooza Lineup Is …
All of the people that were rumored.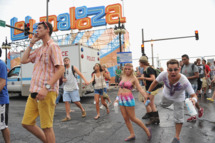 ... Nine Inch Nails, the Postal Service, Phoenix, Vampire Weekend, Kendrick Lamar, the Cure, Mumford and Sons, the Killers, Queens of the Stone Age, the National, New Order, and many more. All of the leaks were right, basically. But it's real now.