What 15 Critics Said About Will Smith's Silly After Earth Character Name
"Cypher Raige, which suggests that he's descended from a long line of American Gladiators.'"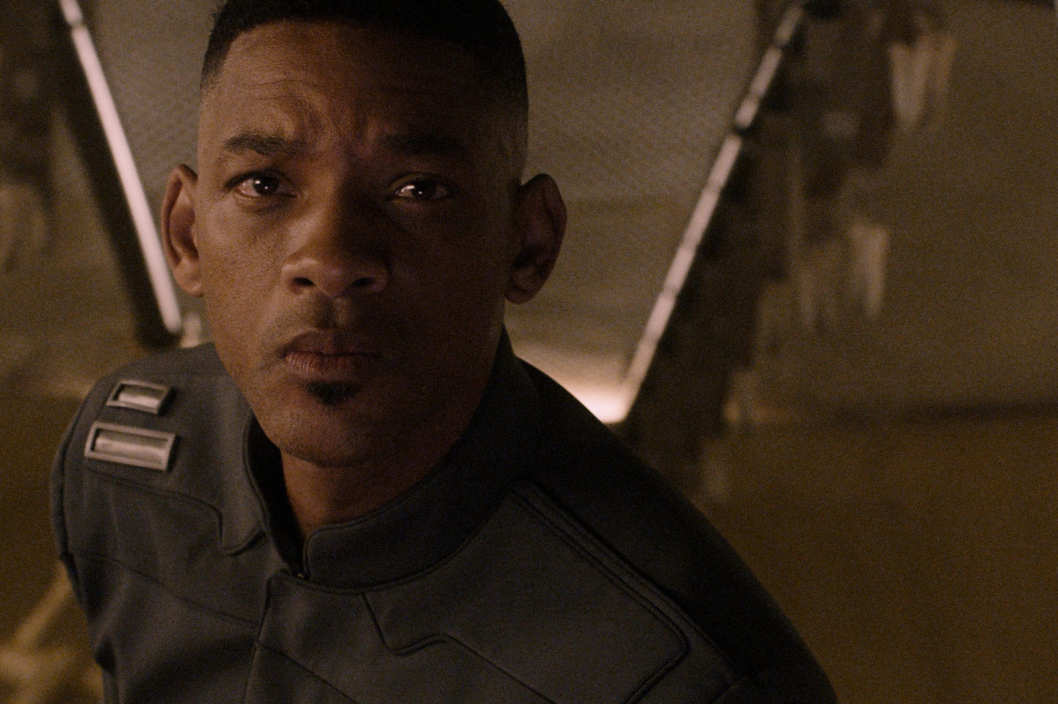 It appears the critics have come to a consensus on After Earth: It stinks! It's clocking in at a not-whopping 14 percent on Rotten Tomatoes and 32 on Metacritc. They also agree on some specifics: There's no twist, other than the lack of twist; it's an unglorified vanity project; and the names of things are super silly. Specifically, the name of Will Smith's character's: Cypher Raige. It's the worst. It's the best worst. So read fifteen critics answer the question, "What's in a name?" If that name is Cypher Raige, then the answer is "a good laugh." 
* "There are certainly choices here that baffle me, like naming a character 'Cypher Raige.'" — Drew McWeeny, HitFix.com
* "Here, Smith plays Cypher Raige (one of the movie's several silly names)." — Kurt Loder, Reason.com
* "I'm burying the lede here by not telling you immediately that Will Smith's character's name is Cypher Raige, which suggests that he's descended from a long line of American Gladiators. Cypher Raige! It never stops being funny, which is important, because aside from that name and the fact that Smith's chosen a future-guy accent that makes him sound like he's workshopping a Shelby Foote impression, this is a profoundly humorless movie. I promise you that after a while you'll come to cherish every utterance of the name Cypher Raige like a gulp of water in the desert." — Alex Pappademas, Grantland
* "That's what Cypher Raige (seriously, that's Will Smith's character's name) does." — Jordan Hoffman, ScreenCrush.com
* "Smith senior plays Gen. Cypher Raige, the stoic military leader of an off-planet Earthling colony. I am not making this up, that is seriously his name." — Colin Covert, Minneapolis Star Tribune
* "After Earth is smug in its awareness of its own structure and scripting, the largest signifier of which is the name given to Will Smith's character: Cypher Raige." — Chris Cabin, Slant Magazine
*"A heroic if unfortunately named general, Cypher." — Manohla Dargis, New York Times
* "Our hero also has a problem: he's called Cypher, which in its alternate spelling of Cipher means either cryptographic code or arithmetical zero. Second problem: His character lives down to his name." — Richard Corliss, Time
* "There are good parts in there, like the father-son bonding, future Rangers, and men who have been named Cypher without any subtext whatsoever." — Laremy Legel, Film.com
* "The aptly named Cypher." — Joe Williams, St. Louis Post-Dispatch
* "Aptly-named father Cypher." — Claudia Puig, USA Today
* "Smith plays a veteran space soldier with the metaphorically overripe name of Cypher Raige." — Matt Zoller Seitz, RogerEbert.com
* "The magnificently named General Cypher Raige (Will Smith)." — Dana Stevens, Slate
* "A thousand years later, Smith is the aptly named Cypher." — Lou Lumenick, New York Post
* "Will is a military hero, an angry enigma actually named Cypher Raige." — Marc Mohan, The Oregonian
And a couple shout-outs to Jaden's character's silly name:
* "Jaden, whose Kitai Raige (how's that for a character name?)" — Scott Foundas, Variety
* "Our protagonists are a bodaciously named father and son duo, Cypher and Kitai Raige." — Gabe Toro, The Playlist