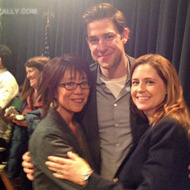 The Office finale didn't just bring back past regulars Michael Scott, Kelly, and Ryan. The 75-minute closer also paraded out classic bygone bit players (Mose! Devon!) and characters we'd only heard about until last night (Erin's birth parents … awww). But the show was also packed with many Office regulars who you might not have recognized: Behind-the-scenes folks popped in for small parts, from writers and producers to key crew members (and, in some cases, their loved ones) and one very dedicated Office fan, all of whom kept Dunder Mifflin chugging away for nine seasons. (There were also a couple of very familiar actors who showed up as new characters, which felt like they were setting things up for some kind of Scrubs-like continuation with a new cast.) Here's the complete list of returning players, backstage castings, and surprise cameos, alphabetically by character.* (UPDATE:  Thanks to the help of Office director/editor/producer David Rogers, we were able to identify even more players, added in below.)

After-party guests in group picture: Executive producers Greg Daniels and Howard Klein, editor/directors David Rogers and Claire Scanlon, script supervisor Veda Semarne, first A.D. Rusty Mahmood, prop master Phil Shea
Angela's sister: Rachael Harris (Frequent TV guest star: New Girl, Modern Family, many others)
Dakota, Kevin's replacement: Dakota Johnson, from the canceled Ben and Kate
Devon, re-hired employee: Devon Abner, whose character was fired by Michael in season two's Halloween episode, and then smashed a pumpkin on Michael's windshield
Documentary crew voice that speaks to Dwight in his car in the cold open: Director of Photography/director/camera operator Matt Sohn
Elizabeth the stripper: Jackie Dubatin. Elizabeth previously danced at Bob Vance's bachelor party. She also presented the big check in "Fun Run."
Erin's biological mom: Joan Cusack 

Erin's biological dad: Ed Begley, Jr.
Frat boy who mocks Andy in the steak house: Greg Daniels' former driver/assistant, Jonah Platt
Gabor, a wedding guest: Tim and Eric's Eric Wareheim, who first appeared this season in "Junior Salesman," as Dwight's friend from X-Men School
Guest at Kevin's bar in Mose's group: James Urbaniak as Rolf
Jakey, the stripper at Angela's bachelorette party (and Meredith's son): Spencer Daniels, first seen in season two's "Take Your Daughter to Work Day"
Kelly's boyfriend, Ravi: Sendhil Ramamurthy (Heroes)
Minister at the wedding: Michael 'Tuba" Heatherton, husband of script supervisor Veda Semarne; he also appeared in this season's episode, "The Farm"
Mose: Mike Schur, former Office writer and Parks and Recreation showrunner
PBS panel audience member who asks about Jim's teapot letter: Office writer Dan Sterling
PBS panel audience member who asks how they all feel about their lives playing out on TV: Office writer Brent Forrester
PBS panel audience member who asks if life feels pointless after the cameras leave: Office writer Steve Hely

PBS panel audience member who asks if Pam has a Jim-sized surprise for him: Office writer Amelie Gillette
PBS panel audience member who asks if they were portrayed accurately: Office wardrobe department's Courteney Andresen
PBS panel audience member who lusts after Jim: Office writer Allison Silverman
PBS panel audience member who runs a fan website, and presses Pam on how she could ever doubt Jim: Jennie Tan, who runs the Office fan site OfficeTally
PBS panel moderator: Susanne Daniels, wife of Greg Daniels and president of entertainment at MTV
People who bought Jim and Pam's house: Jay Falk, Office script coordinator, and his wife
Real-estate agent Carol: Nancy Carell, Steve's wife. Carol dated Michael Scott in season three, and returned briefly in season seven so Michael could ask her if she gave him herpes
Saturday Night Live Andy mockers: Bill Hader and Seth Meyers
Stanley's replacement: Malcolm Barrett (Better Off Ted)
Wedding guest and part of Mose's group at Kevin's bar: Office producer/director Jen Celotta
Wedding guest and part of Mose's group at Kevin's bar: Office producer/writer Graham Wagner
Woman at warehouse party who tells Phyllis the mugs are for PBS Execs only: Casting director Allison Jones
Zeke, Dwight's cousin: Matt L. Jones (Breaking Bad), seen this season in "The Farm" and "Junior Salesman"
And all of the extras in the final warehouse scene are cast and crew of The Office including PAs, editors, script supervisors, etc. Even the photographer, Chris Haston, is an NBC photographer.
* This post has been corrected: Spencer Daniels (who plays Meredith's stripper son) is not Greg Daniels' son. We also added Brent Forrester, Elizabeth the Stripper, the SNL team, and Eric Wareheim.