Amanda Bynes Maintains That She Did Not Throw a Bong, Claims NYPD Sexually Harassed Her [Updated]
The police are looking into the charges.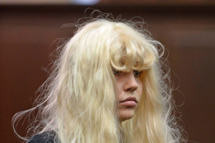 On Friday, a bewigged Amanda Bynes appeared in Manhattan court, where she was charged with reckless endangerment, marijuana possession, and evidence-tampering for her Thursday night bong-throwing incident. After claiming that what she tossed out of her 47th Street apartment building window was, in fact, a vase, she was released without bail, and promptly took to Twitter, where she maintained her innocence (and expressed a desire to consult with Nikki Minaj's wig person): "I only smoke tobacco I don't drink or do drugs. I've never had a bong in my life! I need to get another nose job after seeing my mugshot!" Now, Bynes also has tweeted that she was sexually harassed by an NYPD officer. After warning readers against believing lies about her arrest, she wrote, "I was sexually harassed by one of the cops the night before last which is who then arrested me. He lied and said I threw a bong out the window when I opened the window for fresh air. Hilarious. He slapped my vagina. Sexual harassment. Big deal. I then called the cops on him." The rest is here. Update: The New York Post reports that Bynes told the authorities that "two officers who hauled her in ran their fingers up her arm and one of them penetrated her with his finger." The NYPD's Internal Affairs Bureau investigated the charges and "found no evidence to corroborate Ms. Bynes' allegations. To the contrary, a credible civilian witness who was with the officers throughout told investigators that none touched Ms. Bynes inappropriately or otherwise engaged in misconduct at any time."