Angela Kinsey Tells Vulture What Goes On at the Real Office Christmas Parties
Actress Angela Kinsey hosts them at her house (complete with Yankee Swap). And she isn't scared of alcohol.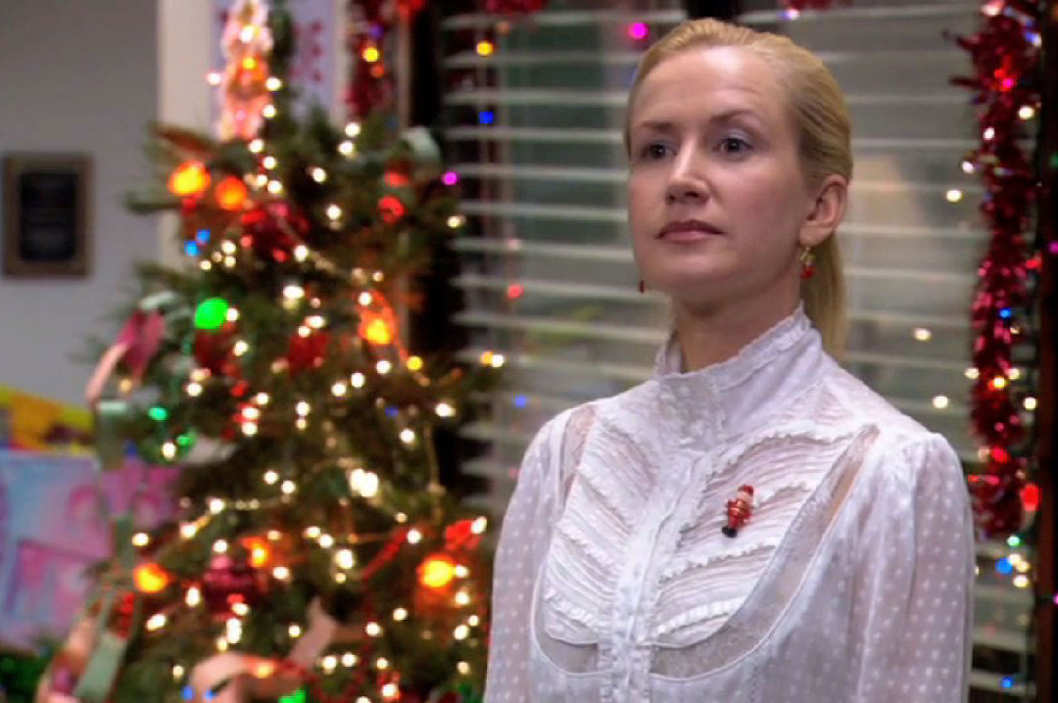 Over nine seasons, one of the most dependably awkward annual rituals of The Office was the Christmas party, as joylessly organized by party martinet Angela Martin. In a Bizarro-world twist, it turns out the cast itself also celebrated an annual Christmas bash — at the home of none other than Angela Kinsey, who plays Angela. With the series finale airing tomorrow night, we reached out to Kinsey to see just how the two parties compare. Which has more drinking? Which Yankee Swap has caused more strife? And has she ever been in any danger of Phyllis taking over her home party too?
On the show, Angela presides over the party committee like a despot. But in real life, Kinsey is a party-planning committee of one. "It's pretty much me and last-minute runs to Target," said the actress, who does wear a Santa hat, if not the whole suit, and has been hosting the cozy affair for cast and friends at her Los Angeles home for the past few years. She always bakes cookies and brownies (and buys a bunch of finger foods — "but the good stuff!" she says) and braces herself for a night of Yankee Swap, a tradition that began on the show in the series' first-ever Christmas episode, season two's "Christmas Party," written by Parks and Rec boss Mike Schur. (The one where Michael Scott turned the Secret Santa exchange into a ruthless game of gift-snatching, and we saw Jim's recently referenced teapot for Pam.) "Yes, I stole the idea," Kinsey laughed. "Everyone has to buy a gift and wrap it and then we do that crazy gift exchange and steal each other's gifts."
Oscar Nuñez, who plays Dunder Mifflin accountant Oscar, is the game's unofficial wrangler; with presents changing hands — and more than 30 guests playing — there's always some whining. "When that happens, like when a bunch of gifts get stolen, Oscar rallies," Kinsey said. "Last year he just started chanting. He was like, 'Come on, guys. It's Yankee Swap. YAN-KEE SWAP! YAN-KEE SWAP!' Then it got rowdy."
True to the spirit of the game — and the way the original gang played it — clunker gifts abound. Kinsey tells her guests not to buy anything lavish, and some take the order to heart. "Zach Woods, who plays Gabe, brought a weird little Egyptian sarcophagus jewelry box. No one wanted it. Someone else brought a huge gift that everyone was like, Oooooooh, and it was just a whole bunch of toilet paper," Kinsey recalled. "But I'll tell you what: More people wanted the toilet paper than the weird sarcophagus." And some of the players are less than gracious about the loot they wind up with. "A few people hid their crappy gifts throughout my house that they got but didn't want to take home!" she said. The game then becomes a weeklong solo game of hide-and-seek. "Days later, I found, kind of rolled up in a fetal position, this weird China doll stuffed into one of my pitchers. It was like a court jester with this porcelain face. I also found a silver-plated cat jewelry stand with holes in its body where you stick your earrings just sitting amongst several books in a bookshelf. It's like, You jerks. Take this crap home with you!" As Angela Martin might do, Kinsey's already plotting revenge for next year, when she plans to rewrap the lot and throw it back into the swap. "Someone's going to get it, and I'll go, Ha!" She added that not everyone brings junk. Jenna Fischer's husband brought a small ax. "The dudes were very into that. They all wanted to get to chopping."
The biggest difference between the Office parties and the real deal might be Kinsey herself: Real Angela gets her drank on. "Of course! What is a Christmas party without some kind of adult beverage?" she laughed. Remember when Angela accidentally had some Champagne at Phyllis's wedding and spit it out? Kinsey said that would never happen at her party. "If anyone has one too many, it's me because I host it and I don't have to drive home. I'm usually the one who's like, 'C'mon you guys. Staaaaay!' And they're like, 'Uh, we're going home, Angela.'"