Benicio del Toro May Join Paul Thomas Anderson's Inherent Vice
Alongside Joaquin Phoenix.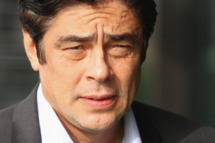 Paul Thomas Anderson's Thomas Pynchon adaptation Inherent Vice is reportedly close to landing Benicio del Toro, who would play "an attorney who's always trying to help the protagonist out of trouble, though he's not an actual criminal lawyer," according to The Wrap. The role isn't a huge part, but it "is expected to be a potential scene-stealer." Joaquin Phoenix is set to star, production will begin soon, and hopefully it'll hit theaters way faster than The Master did.