CBS's New Schedule Tweaks Comedy Lineups
Four new comedies, one new drama for the fall.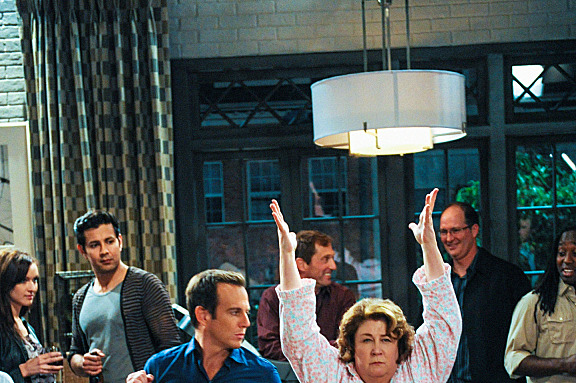 CBS's 2013–14 schedule mostly moves things around on Mondays and Thursdays — that is, it mostly moves around the network's comedies. CBS axed Rules of Engagement and is keeping Mike and Molly off the schedule for a bit, opening up two spots in the Monday lineup currently anchored by How I Met Your Mother (going into its final season) and 2 Broke Girls. On Thursdays the network is programming two hours of comedy instead of one, shifting Person of Interest to Tuesdays for an all-procedural bloc.
The network has only three new dramas, just one of which is premiering in the fall: Hostages, with Toni Collette as a surgeon whose family is being held hostage by a rogue FBI agent (Dylan McDermott) until she kills the president, will be on Mondays at 10 p.m. at the beginning of the season, and then later cede its time slot to Intelligence, a super-soldier drama with Josh Holloway and Marg Helgenberger. At some point mid-season, there'll be Reckless, a "steamy legal drama."
On the comedy front, there's We Are Men, a single-camera show with Kal Penn, Jerry O'Connell, and Tony Shalhoub about lovelorn dudes living in the same apartment complex; Mom, a Chuck Lorre sitcom starring Anna Faris and Allison Janney; The Millers, from Greg Garcia, with Margo Martindale playing Will Arnett's mother; and The Crazy Ones, a half-hour comedy from David E. Kelley starring Robin Williams and Sarah Michelle Gellar as a father/daughter advertising duo. At mid-season, there's Friends With Better Lives, which is about what it sounds like it's about: people wondering if the grass is greener, etc. Here's the full schedule, new shows in all caps:

MONDAY
8 to 8:30 p.m.  How I Met Your Mother

8:30 to 9 p.m.  WE ARE MEN

9 to 9:30 p.m.  2 Broke Girls

9:30 to 10 p.m. MOM

10 to 11 p.m. HOSTAGES
INTELLIGENCE (mid-season)

TUESDAY
8 to 9 p.m.  NCIS

9 to 10 p.m. NCIS: Los Angeles

10 to 11 p.m. Person of Interest (new time slot)

WEDNESDAY

8 to 9 p.m.  Survivor

9 to 10 p.m. Criminal Minds

10 to 11 p.m. CSI: Crime Scene Investigation

THURSDAY
8 to 8:30 p.m.  The Big Bang Theory

8:30 to 9 p.m.  THE MILLERS

9 to 9:30 p.m.  THE CRAZY ONES

9:30 to 10 p.m. Two and a Half Men (new time slot)

10 to 11 p.m. Elementary

FRIDAY

8 to 9 p.m.  Undercover Boss

9 to 10 p.m. Hawaii Five-0 (new time slot)

10 to 11 p.m. Blue Bloods

SATURDAY

8 to 8:30 p.m.  Comedytime Saturday (sitcom reruns)

8:30 to 9 p.m.  Comedytime Saturday

9 to 10 p.m. Crimetime Saturday (drama reruns)

10 to 11 p.m. 48 Hours

SUNDAY

7 to 8 p.m.  60 Minutes

8 to 9 p.m.  The Amazing Race

9 to 10 p.m. The Good Wife

10 to 11 p.m. The Mentalist