Game of Thrones' Richard Madden to Play Cinderella's Prince
He's temporarily demoting himself from King of the North to Prince of the Charming.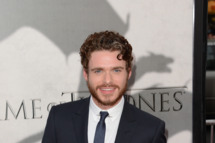 Last week, we learned that Downton Abbey's Lily James had been cast to play Cinderella in Disney's upcoming Kenneth Branagh–directed live-action Cinderella. Today, Disney announced they've also cast Cinderella's cinderfella. Game of Thrones' Richard Madden will be playing the prince and finally not look so incredibly filthy onscreen for once. It's good to have a love interest that can both put slippers on and cut body parts off people.