Fox Is Considering a Plan to Have Former American Idols Judge Next Season
Kelly Clarkson and Jennifer Hudson have already been approached.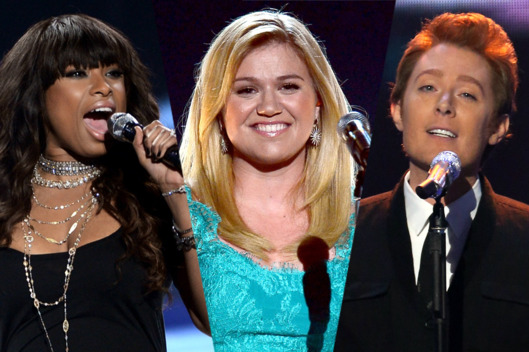 There's a very real chance the next American Idol will be judged by a panel of former American Idols. As Fox and the production companies behind the struggling (yet still high-rated) singing show ponder changes for the 2014 edition, two people with knowledge of the situation tell Vulture that serious consideration is being given to the idea of filling one, and very possibly all, of the slots on the show's judging panel with former Idol contestants. These sources say Jennifer Hudson and Kelly Clarkson have already been approached about the idea, and that the names of Adam Lambert and Clay Aiken are also under discussion. (Alas, Justin Guarini does not seem to be on the short list.)
It's important to emphasize that we have not been able to confirm that Fox and production companies FremantleMedia and 19 Entertainment have made a final decision to go with an all-alumni panel for season thirteen. There are a million moving parts in the twelve-year-old Idol machine, and in recent years, speculation about potential judges that seemed quite reasonable (like this report about Enrique Iglesias getting a firm offer to join the show) has often led nowhere. So keep in mind: While the Idol brain trust may be mulling an alumni panel now, and even putting out feelers to reps for J-Hud, Kelly, et al., it's quite possible that execs might change their minds, or that if negotiations with the former Idol contestants commence, said talks could later break down. Fox and the production companies also have lots of time to make their moves: The 2013 judging panel wasn't officially unveiled until mid-September last year. Still, there's plenty of evidence to suggest that Idol will feature all-new judges when it returns. Randy Jackson's already been given his on-air good-bye and Fox execs have done nothing to shoot down the May 8 scoop by the Wrap's Jethro Nededog that all four judges were being dumped. Fox boss Kevin Reilly, when asked last week about the future of the panel, told reporters that "everything is on the table." That might also include who serves as Idol's showrunner: The Wrap also reported that veteran producer Nigel Lythgoe "is expected to be replaced."
As they always do during Idol Speculation Season, Fox publicity declined to comment. If an all-alum panel becomes a reality, the thinking behind the idea seems pretty solid: After several seasons in which Fox shelled out crazy money for singing superstars for whom Idol often seemed to be just part of a larger publicity tour, bringing back former contestants sounds like a good way to reconnect the show with its roots (and a core audience that might have been turned off by all the carpetbaggers passing judgement). What's more, most of the former contestants being discussed have had successful careers post-Idol, either in music or in the movies. Showcasing Idol icons might be a none-too-subtle way to differentiate the show from its upstart (and now higher-rated) rival, NBC's The Voice, which has yet to produce even a modestly successful champion. Fox insiders have long insisted Idol's success wasn't because of Simon Cowell or any of the judges, but because viewers loved watching real people transform into superstars. Welcoming some of those superstars home might be a good way to get former Idol viewers to return as well.