Into the Woods Also Courting Emily Blunt
Days after Chris Pine and Jake Gyllenhaal entered the mix.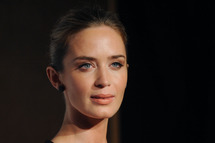 A couple days after the news that Chris Pine and Jake Gyllenhaal are considering Disney's Into the Woods, Emily Blunt is nearing a deal to join the adaptation of Stephen Sondheim's 1986 musical. Blunt would play the film's female lead, a baker's wife. Johnny Depp and Meryl Streep are set to star. There's no start date for production, but this cast is getting impressive enough to reasonably hope things will get rolling quickly.