From Around the Web: Jennifer Lawrence Blued Herself Again for X-Men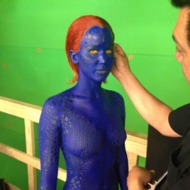 We are all interconnected here on the World Wide Web, and all of us entertainment sites operate on a friendly basis. So what are Vulture's preferred partners excited about today? Jennifer Lawrence's X-Men: Days of Future Past getup, the real life Bling Ring, and Zahara Jolie-Pitt's thoughts on PDA. Read on:
The Real Bling Ring: Where Are They Now? — The Daily Beast
"Nick Prugo had apparently never watched an episode of Law & Order. If he had, he would know the golden rule of being interviewed by the police: ask for a lawyer and say nothing."
Photo: Bryan Singer / Twitter