Josh Hutcherson Lines Up Hunger Games Off-Season Work With Ape
It's about mental illness.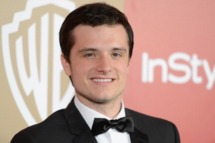 Josh Hutcherson must have seen Silver Linings Playbook and dug Jennifer Lawrence's foray into the mental health realm. The man in the middle of four films as Peeta Mellark is now set to produce and star in Ape, "a dramatic tale of a young man's struggle with mental illness, love and a deep-rooted family secret." Repo Men helmer Miguel Sapochnik will direct.