Cannes: Justin Timberlake and Adam Driver Recorded a Song Together, You Guys
And this delightful moment happens in the new Coen brothers movie.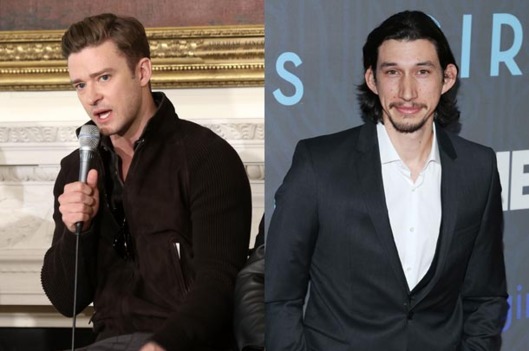 There's a lot to say about Joel and Ethan Coen's new movie, the low-key folk music drama Inside Llewyn Davis, which screened for the first time just hours ago in Cannes. But would you like to know the most delightful element right away? You would? Good, because as you've probably gleaned from this headline, there is an early scene where the downtrodden Llewyn (Oscar Isaac) goes in for a studio session to add backup vocals to a song written by Jim (Justin Timberlake) — a square and steady singer who has no idea that Llewyn has knocked up his girl (Carey Mulligan) — and there, sitting in the studio next to Timberlake, is Adam Driver from Girls. In a cowboy hat. And then Timberlake and Driver sing a full-length song together. Is this holy, utterly unexpected musical union between Justin Timberlake and Adam Driver the most created-in-a-lab-for-Vulture moment of the year? It obviously is.
We should note that while Llewyn's taste in folk music is searing, intimate and personal, Timberlake's Jim sits at the other end of the songwriting spectrum, and so this song is a bouncy, proudly idiotic masterpiece called "Please Mr. Kennedy." Its lyrics are few, and they mostly go like this: "Please Mr. Kennedy / Don't you shoot me into outer space" (repeat ad infinitum). Meanwhile, Adam Driver sticks his thick, gawky neck out, pulls some dopey faces, and adds sound effects at the end of each line. "Oww-oooot!" sings Adam Driver. "Uh-OH!" he yelps. The combination of Timberlake's reedy voice and Driver's basso profundo is so … magical? Yes. Yes. It's magical. Anyway, it's so magical that when they finished the whole, uninterrupted number, the audience at the Salle Debussy burst out into delighted applause. And now you know, and you have something to look forward to in this cinematic year. As one character says, "It's gonna be a hit! The royalties on that? Whoa nellie!"