Kanye's New Album Is Gonna Be All Screamo
Based on remarks from Daft Punk and a crazy Met Gala performance.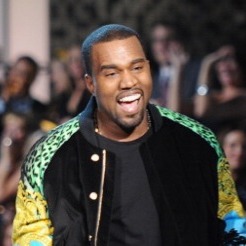 Kanye West might have tweeted his album release date (June 18) last week, so any and all reports from West's many collaborators are instantly fair game. Here's a really special one, from Daft Punk's Thomas Bangalter, who hung out in the studio (and maybe, hopefully contributed to the record?): "It was very raw. He was rapping – kind of screaming primally." Which brings us to Monday night at the Met Gala, when DJ A-Trak posted a Vine comprised of three or four different styles of Kanyells, including the words "I am a god" delivered in a Slayer-y growl.
This isn't the first time Kanye has done some Plastic Ono Band-style primal stage work, either. Do we sense a madness motif for the new record from the man who titled his last solo album My Beautiful Dark Twisted Fantasy? Between the shrieks, the snow-monster masks, and, oh yeah, THE STRAITJACKET HE WORE ONSTAGE, yes, it looks like the theme's a safe bet. Maybe we'll get some verification if West really heads to SNL on May 18.
While we're on the Met Gala tip, here is another, less-screamy vine of Kanye's performance:
And here is Kanye telling Kim Kardashian that she is awesome: