Fast and Furious 6 Races to Top of Record-Breaking Holiday Box Office
Get ready for the seventh installment.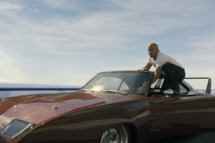 Thanks to the simultaneous release of franchise installments Fast and Furious 6 and Hangover 3 (not to mention the overwhelming pleasure people get from spending their long-awaited free weekends in the darkness of a movie theater), this Memorial Day weekend was the biggest Memorial Day weekend ever, with a box office grand total of $323 million. The previous record-holder was 2011's $276 Memorial Day weekend, which is no doubt crying Hangover 2 tears somewhere in Bangkok right now. With some help from the appeal of The Rock, Fast 6 sped into first place with domestic earnings of  $98.5 million. In second place was The Hangover 3 with a slightly less impressive $42.4 million, probably because Allen roofied the Wolf Pack again. While trekkies reconsider J.J. Abrams, Star Trek Into Darkness fell to third place at only $38 million, while Epic opened in fourth place $34.2 million. Iron Man 3 and The Great Gatsby aren't yet forgotten — they made $19.4 million and $13.7 million, respectively. Box office bonus: there's still one day for all of us to go out there and see something.