Edelstein: Before Midnight Finds Romance in the Struggle of Wills
The third entry in the Richard Linklater–Ethan Hawke–Julie Delpy relationship trilogy.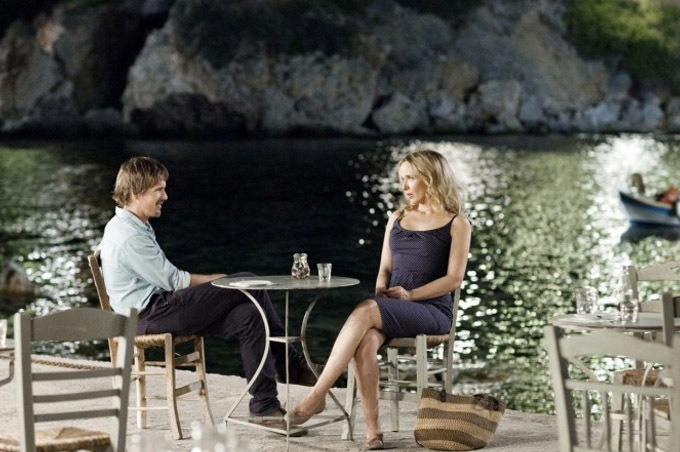 The most fascinating thing about Before Midnight is that it exists — and that its form, in a sense, preceded content. Director and co-writer Richard Linklater and actors and co-writers Ethan Hawke and Julie Delpy have reunited for the second time to chart the latest zigs and zags in the romance of Jesse and Celine — which began in 1995 in Before Sunrise and did not seem meant to go beyond, well, sunrise. Two attractive strangers on a train had a meeting of minds and then bodies and parted with an agreement to meet at a later date. When the three made Before Sunset nine years later, they dodged the biggest challenge. They hit the reset button: Jesse and Celine for convoluted reasons missed each other, and their lives went sadly on — until he wrote a novel and she came to a reading in Paris and …
Before Midnight is a different animal entirely — a different genre, even. Now they have been together long enough to wonder where the passion went. They replay the past, that night on the train to Vienna. She laments that she is broader in the beam. He insists that it's all good and yet signals in so many ways a fear of staying put, living in the present.
The film is set in Greece, where the family is on holiday. Jesse drops his son at the airport, sending him back to the ex-wife who hates the man who abandoned her. Jesse and Celine have daughters with golden curls, like their mom once had. The camera holds on Jesse and Celine as they drive and talk. There is the illusion of real time — and the reality of two people trying to fill it with joy the way they once did. Jesse is thinking about relocating from France to Chicago to be closer to his son. Celine feels erased. The ruins of the landscape evoke the passing of time.
The director of such talkfests as Waking Life always aims to air ideas, and here Linklater nods at the ways in which technology has changed the nature of communication since Jesse and Celine's first encounter in the nineties. But the focus is on the internal struggle of wills. Celine challenges; Jesse, the writer, dodges, escapes into his literary career, lets her twist. Before midnight, they will reckon with the prospect of ending this romantic adventure, not with a bang but a whimper. Can Link­later let that happen? Before Midnight counts on our previous investment to keep us riveted. We are. And we want them back in spirit on that train to Vienna as much as they do. What's next — After Sunrise?
This review was originally published in the May 27, 2013, issue of New York magazine and on Vulture on May 24. The film expands to several hundred more screens across America today.