Movie Review: Peeples Is 'Presented' by Tyler Perry, But Free of His Heavy-Handedness
"Presented" by Tyler Perry, but written and directed by Tina Gordon Chism.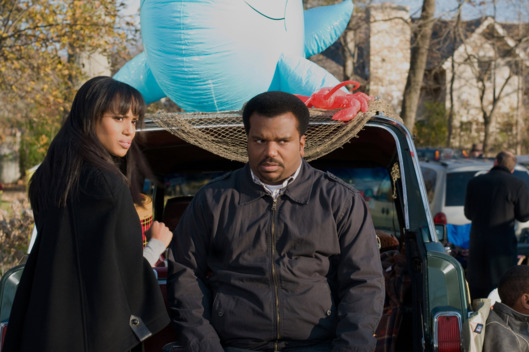 Tyler Perry's name is on writer-director Tina Gordon Chism's Peeples as a producer and "Presenter," but that may not actually mean much. Free of the moralizing, heavy-handed, awkward theatricality of Perry's films, this Meet the Parents-ish fish-out-of-water comedy is pleasant, if inane – helped along by a likable cast that's clearly having fun. The setup is familiar: Children's entertainer Wade Walker (Craig Robinson), intent on proposing to his girlfriend Grace Peeples (the never-not-watchable Kerry Washington), decides to surprise her at her family's summer home in Sag Harbor. Turns out the family home is more of a mansion, and Grace's strict, federal judge dad Virgil (Grier) and recovering '70s disco queen mom Daphne (S. Epatha Merkerson) have never heard of Wade. The daughter has been too concerned about her family's judgment and obsession with status to ever disclose that she's seeing somebody who might not be up to snuff: Wade's main achievement is going around to elementary schools and singing kids a song about how not to pee their pants. ("Speak it, don't leak it.")
The Peeples family, though, is full of secrets of its own: Grace's sister Gloria (Kali Hawk) is a closeted lesbian, and she's just arrived with her secret lover Meg (Kimrie Lewis-Davis); brother Simon (Tyler James Williams), on the other hand, is a klepto. Oh, and Mom still has substance abuse issues. Drugs, stealing, hidden sexual identities … there's potential for serious melodrama here, which makes you even more glad that Tyler Perry is nowhere to be found as a writer or actor in this film. (This is Chism's directorial debut; her previous screenplays were for the decent rollerskating/coming-of-age movie ATL and the terrific marching band drama Drumline.)
Robinson maintains an air of exasperated bemusement throughout, which makes him a good audience stand-in. And Washington, so underused and yet still so riveting recently in Django Unchained, gets to do a great juggling act: She has to be aggressively pleasant to everybody while keeping her escalating anxiety and terror at bay. (One wonders if the film might have been far more satisfying had it centered on her character, as she's the one with the real dilemma here.) Meanwhile, Grier captures just the right tone of disapproving self-importance: He's not so much an overprotective paranoiac (as with De Niro in Meet the Parents) as he is a man trying to keep everything from falling apart by shutting it all down.
That's as far as it goes, though. The humiliation comedy of Meet the Parents worked magnificently because the catastrophe mounted, embarrassment by embarrassment. There, everything was building towards a wedding. Here, it's a ceremonial town-wide reading of Moby Dick – an interesting concept, but not one that yields much of a throughline. As a result, the comic setpieces feel divorced from one another, and oddly manufactured. For example, a scene where Wade dons Daphne's old, elaborate disco headdress and rocks out on his own seems ill-advised for a character supposedly trying hard not to screw things up: It's there just so we can revel in his mortification once he's discovered. But while it's predictable, contrived, and awkward, the scene still kinda sorta almost works, in part thanks to Robinson's charming presence; the actor finds a way to let his joy carry over to the audience. At times, the same could be said for this film itself.