Olivia Benson Will Return
Mariska Hargitay will return for a fifteenth season of<em> Law &amp; Order: SVU</em>.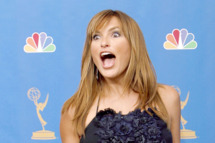 Thanks to a new deal with Universal Television, our favorite lady detective will be back when Law & Order: SVU returns in the fall. "Happy weekend. It's official. Season 15--I'LL BE BACK!" Mariska Hargitay tweeted yesterday. The Hollywood Reporter reminds us that SVU is not "the juggernaut it once was," though it remains a "consistent performer" in its Wednesday night time slot. After all, there will always be a few million people who want to just stay in and hope for one of those ripped-from-the-headlines episodes.