Happy Endings and Smash Canceled As ABC and NBC Wrap Up Their Fall Orders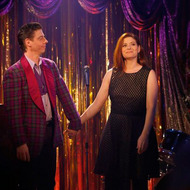 Friday ended with a slew of renewals, cancellations, and new series orders, but first, the bad news: ABC has canceled Happy Endings. Yes, there's a chance a cable network (USA has been approached) might pick it up. But it's far from a certainty, though it's not out of the question (see Cougar Town). Happy was hardly the only victim on this Bloody Friday. To absolutely nobody's surprise, it's now official that Smash will not return. NBC also opted against bringing back The New Normal, while CBS pulled the plug on CSI: NY, Rules of Engagement, Golden Boy, and Vegas. In addition to ditching Happy, ABC deep-sixed Body of Proof, Red Widow, How to Live with Your Parents for the Rest of Your Life, and Malibu Country. (Some outlets have also reported Family Tools is dead, but ABC isn't confirming.) Despite all this slaughter, far more shows got new life Friday.
First, NBC has officially confirmed what Vulture reported exclusively earlier today: Community will be back, for at least thirteen episodes. ABC has (thankfully) given Nashville another season, along with Suburgatory, Scandal, Grey's Anatomy, Revenge, Modern Family, Castle, and Once Upon a Time. Deadline also says The Neighbors will be back, but ABC won't confirm. (Perhaps it doesn't want the Internet wailing that Happy Endings got canceled but Neighbors will be back?) And then there are all the new shows ordered by ABC. So many new shows! Twelve, to be exact. Obviously, Marvel's Agents of S.H.I.E.L.D (from Joss Whedon) is a go; ABC plans to air the first promo for it Sunday. On the comedy side, Rebel Wilson's Super Fun Night (exec producer: Conan O'Brien) is headed to ABC, along with the 80s-set The Goldbergs, the Happy Endings-like Mixology, the Malin Akerman-led Trophy Wife and the Maggie Lawson-starrer Back in the Game. In addition to S.H.I.E.L.D., other dramas going forward at ABC include a spinoff of Once Upon a Time called Once Upon a Time in Wonderland, a spooky hour about dead people returning to life called The Returned, the Christian Slater–Steve Zahn detective show Mind Games (from exec producer Kyle Killen!), the sudsy Killer Women, lottery-themed Lucky 7 and legal thriller Betrayal. Meanwhile, over at NBC, the network ordered two more dramas (The Night Shift, from Freaks and Geeks alum Gabe Sachs and Jeff Judah, and the James Spader thriller The Blacklist), along with a new comedy (the Mike O'Malley-led Welcome to the Family). And one other bit of news: Industry insiders confirm what Deadline first reported: CBS has passed on Shawn Ryan's Beverly Hills Cop reboot, thought to be a sure thing.
Photo: Will Hart/NBC