Scarlett Johansson Joins Jon Favreau's Chef
<em>Iron Man 2</em> reunion!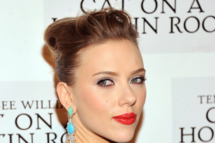 Jon Favreau's Chef might be the director's return to doing smaller, indie movies, but the cast sure still reads like a big action movie. After casting Robert Downey Jr., Variety reports he just added Scarlett Johansson — making it a little Iron Man 2 reunion. The film stars Favreau as a chef who loses his restaurant job and opens a food truck. Johansson will play that restaurant's manager and potential love interest, who may or may not also be an agent of S.H.I.E.L.D.