Star Trek Into Darkness Had a Big First Weekend
And <em>Iron Man 3</em> is still going strong.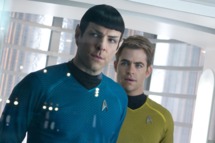 Star Trek Into Darkness took home $84.1 million since opening on Wednesday night, handily winning the weekend box office. And yet somehow that's considered disappointing, since 2009's Star Trek earned $86.7 million in the same time frame. Iron Man 3 notched an extra $35.2 million in the U.S.; it recently passed the $1 billion-mark worldwide as well. The Great Gatsby took third place with $23.4 million, dipping more than 50 percent from last weekend's gross.