The Voice Is Keeping Shakira and Usher
And bringing back its original lineup this fall, too.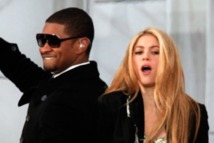 Shakira and Usher are now set to return for The Voice's sixth season next spring. Meanwhile the original judging lineup — Christina Aguilera, Cee Lo Green, Adam Levine, and Blake Shelton — will reportedly reunite this autumn for season five. There's no word on Cee Lo's cat. "Shakira and Usher were so popular with fans that some even urged NBC to add the duo full time," EW reports. "But this strategy will help maintain both variety and continuity next season — the judges are all familiar faces, yet not the same faces all season."