36 Comedy Threequels Graded From Meh to Offensively Terrible
Where do <em>Christmas Vacation</em>, <em>Home Alone 3</em>, and <em>Teenage Mutant Ninja Turtles III </em>fall on this ignominious scale?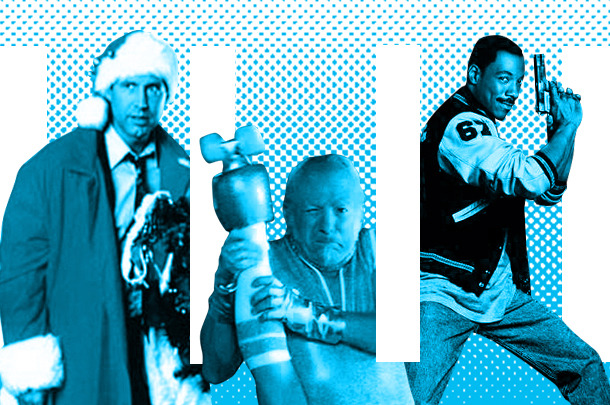 The critical rogering of The Hangover Part III just confirms the general rule that comedy threequels — the subgenre responsible for Home Alone without Macaulay Culkin, Major League without Charlie Sheen, and Beverly Hills Cop III without Eddie Murphy (that had to have been the work of a clone, right?) — fail the sniff test nearly every time. Chalk it up to thrice-used sight gags, catchphrases that were barely guffaw-worthy to begin with, crucial cast members dropping out, or crucial cast members not dropping out but definitely phoning it in. Expectations are and should be so low for comedy threequels that assessing their relative watchability requires an entirely different kind of grading scale: Going A through F seems useless, as you never would need to use anything above a B-minus. So we decided to grade The Hangover Part III and 35 other comedies that mustered a third theatrical release* on a more realistic scale: from "Sporadically Actually Amusing!" to "Offensively Terrible."
Sporadically Actually Amusing!
Army of Darkness (1993)
Back to the Future Part III (1990)
Christmas Vacation (1989)
The Muppets Take Manhattan (1984)
The Naked Gun 33 1/3: The Final Insult (1994)
Scary Movie 3 (2003)
Meh
The Bad News Bears Go to Japan (1978)
Cheech & Chong: Nice Dreams (1981)
Crocodile Dundee in Los Angeles (2001)
A Harold & Kumar Christmas (2010)
Ocean's Thirteen (2007)
Teenage Mutant Ninja Turtles III (1993)
Very Disappointing Indeed
American Wedding (2003)
Ernest Goes to Jail (1990)
Diary of a Wimpy Kid: Dog Days (2012)
Jackass 3-D (2010)
Friday After Next (2002)
Men in Black 3 (2012)
Oh, God! You Devil! (1984)
Tyler Perry's Madea Goes to Jail (2009)
Rush Hour 3 (2007)
Grim. Just Grim.
Big Mommas: Like Father, Like Son (2011)
Porky's Revenge (1985)
The Hangover Part III (2013)
Herbie Goes to Monte Carlo (1977)
House Party 3 (1994)
Little Fockers (2010)
Police Academy 3: Back in Training (1986)
The Santa Clause 3: The Escape Clause (2006)
Offensively Terrible
Austin Powers in Goldmember (2002)
Beverly Hills Cop III (1994)
Home Alone 3 (1997)
Look Who's Talking Now (1993)
Major League: Back to the Minors (1998)
Meatballs 3 (1987)
Smokey and the Bandit, Part III (1983)
* A few notes about methodology to ward off the inevitable, "Um, you forgot Beverly Hills Chihuahua 3: Viva La Fiesta! complaints (although we still totally expect and encourage them): no straight-to-video (sorry, Rick Moranis in Honey, We Shrunk Ourselves!), no animation (sorry, Tim Allen in Toy Story 3!), no spinoff sequels (sorry, Queen Latifah in Beauty Shop!), and no unintentionally comical threequels (sorry, everybody in Jaws 3D!). And our basic rule about including comedy hybrid films, such as Rush Hour 3 vis a vis Lethal Weapon 3, is how hard it leans toward the humor side of the equation.