Tom Cruise Is Doing Mission: Impossible 5
<em>Jack Reacher</em>'s Christopher McQuarrie is rumored to direct.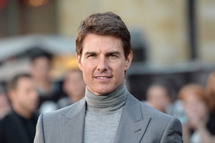 In what won't come as a surprise to anyone, Tom Cruise has signed on to produce and star in Mission: Impossible 5 (or, as we'll be calling it, Mission: Impossible – Cinco de Mayhem). "Both Paramount and Skydance have confirmed this, but they are not saying who's writing and directing, or when they are targeting release," Deadline reports. Christopher McQuarrie — screenwriter behind The Usual Suspects and Cruise's Valkyrie; director of Cruise's Jack Reacher — has been rumored as the director since late last year. That said, McQuarrie just signed on to write and direct a remake of Ice Station Zebra, so who knows.