2 Chainz Learns That You Can't Check Your Pot at the Airport
Sizzurp is also a no-go.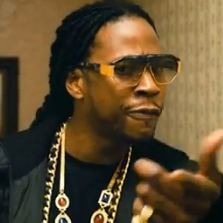 We're all keenly aware of the list of things that you can't take on a flight, but tonight, rapper 2 Chainz realized that there are some things you can't put in your checked luggage either. Namely, drugs. Just three days after reportedly being robbed at gunpoint in San Francisco (or maybe not), the man behind "I'm Different" was arrested at LAX after cops found pot in his checked luggage. He was escorted off his plane at Terminal 5 and booked on a felony narcotics possession of Promethazine, or one of the two main ingredients in sizzurp. While we haven't stopped thinking about Lil Wayne's quote in Behind The Music, TMZ points out another irony: "Just yesterday, 2 Chainz ... was tweeting about how impressed he was with the weed in San Francisco." Also thanks to the magic of Twitter, Tity Boi told us that he's good and shared the following wisdom: "Life gone have its ups and downs , as long as u in the middle u good. So we good yal."